Brussels sprouts wrapped in Parma ham for a delicious roast dinner side.
Brussels Sprout Parma Wraps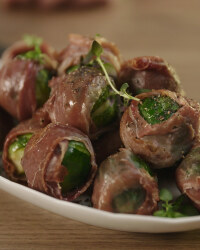 Recipe Information
Ingredients
16 Cleaned sprouts
8 slices Specially Selected parma ham
1 tsp maple syrup or honey
Method
Par boil the sprouts for 2-3 mins.
Brush lightly with the honey or maple syrup.
Wrap tightly with the parma ham into small golf balls.
Roast at 180°c for 10-15 minutes until crispy and brown.
You can add these to a frying pan if the colour isn't strong enough from the oven.