Don't waste the leftover veggies! They'll be perfect in this go-to mid-week Bubble & Squeak recipe.
Bubble and Squeak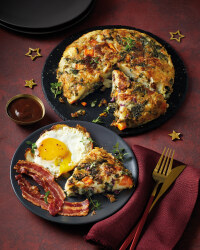 Recipe Information
Ingredients
700g Leftover Vegetables and Potatoes
60g Butter
50ml Olive Oil
1 X Large Red Onion, finely chopped
2 X Cloves Garlic, minced
Method
In a large frying pan sauté the onion in the olive oil for a few minutes on a low light.
Add the garlic and butter and cook for another minute.
Chop all the vegetables and potatoes into bite-size pieces, add to the pan and mix well.
Turn up the heat and cook for 7-8 minutes, pushing down with a wooden spoon to squash all the vegetables.
Flip over the vegetables and cook the other side for a further 7-8 minutes.
Turn out onto a plate and cut into slices, like a cake.
Serving suggestions
Great served topped with slices of streaky bacon and eggs
Serve alongside grilled chops or chicken breasts
Sprinkle with grated cheese and serve alongside grilled sausages