Assemble these amazing Bunny Cheese biscuits and decorate with lovely veggie smiles.
Bunny Cheese Biscuits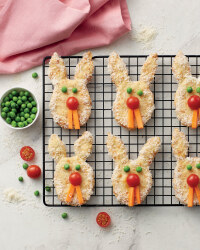 Recipe Information
Ingredients
100g cold Salted Butter
80g Cheddar Cheese
150g Plain Flour
1 x medium Egg
10ml Milk
40g Parmesan
To decorate:
Carrots
Small Cherry tomatos
Peas
Method
Preheat the oven to 180c/350f/gas 4.
In a large bowl - grate the butter and cheese into the flour and rub in with your fingertips. Add the egg yolk and milk into the bowl and mix into a soft dough. In a separate bowl and lightly whisk the egg whites.
Roll the dough into 12 balls – Take 6 of those balls, and flatten them with the palm of your hand into oval shapes, for the bunny's faces. Then with the other 6 balls, cut them all in half – these are the ears of the bunnies. Shape them into rabbit's ears and 'glue' them down using the egg white as the glue.
Transfer to lightly greased baking trays.
Bake in the oven for 15 mins.
Allow to cool. Finely grate the parmesan cheese. Dip the sides of the biscuits in the egg white and then dip in the grated parmesan cheese.
Decorate the biscuits – peas for eyes, small carrot batons for the buck teeth and half a cherry tomato for the nose.