Easy peasy Butterfly Quesadillas are the perfect quick and tasty dinner.
Butterfly Quesadillas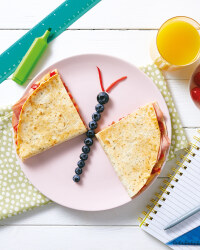 Recipe Information
Ingredients
50g ham slices
A pinch of salt and pepper
80g cheese - grated
2 tortilla wraps
Finely chopped red peppers or cherry tomatoes
Decoration:
Blueberries and chopped peppers to decorate
Method
In a hot pan add a little oil.
Once heated, place the tortilla in the pan.
Add the cheese, ham slices and chopped red peppers or tomatoes on one side.
Fold over the tortilla to cover the toppings.
Once the tortilla is toasted on the bottom, turn it over to toast the other side.
Cut the quesadilla in half and serve with decorations!
Any topping can work – Why not try cheese and tomato, chicken and pesto or spinach and mushroom!