Baby weaning, 6 months, Butternut Squash Purée
Butternut Squash Purée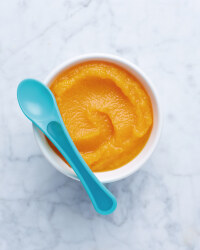 Recipe Information
Ingredients
1 Small Butternut Squash
200ml Water
Dash of your baby's Milk (optional)
Method
Pre-heat the oven to 200°C/180°C Fan/Gas Mark 6.
Slice the butternut squash lengthways and spoon out seeds.
Place the squash face down In a roasting dish, add a cup of water and cover with tin foil.
Roast for 40 minutes or until the flesh is easily pierced with a knife.
Leave to cool then scoop out the flesh and blend in a food processor until smooth.
You can add 2 teaspoons of baby's usual milk to make it smoother.