12 cake pops for parties and special occasions. Made with angel cake and white chocolate.
Cake Pops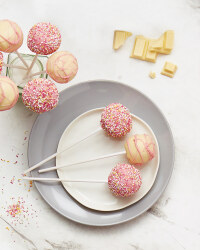 Recipe Information
Ingredients
298g Holly Lane Angel Cake
120g The Pantry Icing Sugar
60g Cowbelle Unsalted Butter, softened
1 tsp The Pantry Vanilla Extract (be sparing as this could split the chocolate)
1 tsp Milk
To Decorate
250g White Chocolate
1-2 drops Pink Food Colouring (be sparing as this could split the chocolate)
The Pantry Sprinkles
12 Lollipop sticks
Method
Use an electric hand mixer or stand mixer to beat together the butter and icing sugar, along with the milk and vanilla extract, until pale and fluffy (about 5 minutes).
In a separate bowl, break up the angel cake into crumbs and then add into the buttercream and mix until smooth. Use your hands to roll the mixture into 12 golf-ball-sized balls and place a lollipop stick into each one.
Leave the cake pops to cool for at least half an hour until firm. When they have hardened, gradually melt the chocolate in the microwave in 30 second blasts until smooth and then add 1-2 drops of food colouring. Dip the cake pops into the melted chocolate to coat them and then top with sprinkles. Leave to harden in the fridge and then serve.