Luxury festive pecan praline popcorn. Brown sugar, golden syrup, pecans and popcorn. What a treat!
Candied Pecan Popcorn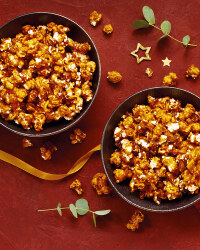 Recipe Information
Ingredients
100g Popcorn
100g Pecans, chopped
115g Salted Butter
200g Demerara Sugar
4 tbsp Golden Syrup
Pinch of salt
½ tsp Bicarbonate of Soda
Method
Pre-heat the oven to 150°C/Fan 130°C/Gas Mark 2.
Melt the butter, sugar, golden syrup and salt over a gentle heat, then stir in the bicarbonate of soda.
Add the popcorn and pecans, giving it a quick stir, then transfer to a casserole dish (no lid required).
Bake the popcorn mixture in the oven for 15 minutes, stirring every 5 minutes.
Remove from the oven, leaving the popcorn to cool slightly before breaking up into a bowl. Alternatively, leave the popcorn to cool completely and transfer to bags to give as an edible gift.