An oh-so-good-for-you Cauliflower Crust Pizza. Packed with delicious herbs. Enjoy with rocket.
Cauliflower Crust Pizza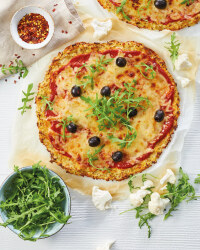 Recipe Information
Ingredients
1 Cauliflower
3 tsp Chai Seeds
20ml Boiling Water (to soak the chai seeds)
2 Medium Eggs
50g Cheddar Cheese, finely grated
1 Garlic Clove, peeled
Salt and Black Pepper
400ml Basil & Oregano Passata
1 heaped tsp Paprika
140g Mozzarella Cheese, grated
16 Black Olives
½ tsp Chilli Seeds
30g Rocket Leaves
Method
Pre-heat the oven to 200°C/Gas Mark 6.
Soak the chai seeds in the boiling water.
Break the cauliflower into florets and put into a pan of boiling water along with the garlic.
Cook for 5 minutes, drain and put back into the pan and dry off over a low light.
Put into a food processor along with the soaked chai seeds and process to crumbs.
Break the eggs into a large bowl and whisk well.
Add the cheddar, season with some salt and pepper and mix.
Put the cauliflower mix into the bowl with the eggs and cheese and mix well.
Divide this mixture between 2 pieces of non-stick baking paper on metal baking sheets.
With a spatula, form 24cm diameter pizzas.
Bake in the oven for 20 minutes.
In the meantime, pour the passata into a saucepan and add the paprika. Bring to the boil and simmer for 10 minutes until the sauce has reduced and thickened, stirring as you cook.
Remove pizzas from the oven and allow to cool a little.
Carefully turn over the pizza bases, gently peeling off the paper.
Divide the sauce over the tops, sprinkle over the mozzarella, chilli seeds and the black olives and bake in the oven for a further 15 minutes.
Top with rocket leaves and serve immediately.