Looking for a healthy way to jazz up everyday meals? Why not try this cauliflower-spiced rice recipe?
Cauliflower Spiced Rice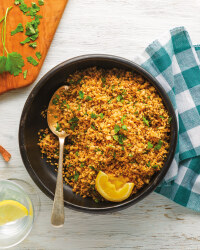 Recipe Information
Ingredients
1 Cauliflower
1 tsp Stonemill Garlic Granules
1 tsp Stonemill Paprika
1 tsp Stonemill Ground Cumin
15ml Olive Oil
8g Fresh Coriander
Sea Salt
Black Pepper
Method
Pre-heat the oven to 200°C/400°F/Gas Mark 6.
Cut the cauliflower into quarters, removing and discarding the thick stem.
Roughly chop the cauliflower and place into a food processor (carry this out in 2 batches, to avoid clogging up the machine).
Process until the cauliflower resembles couscous.
Put the 'cauliflower rice' into a bowl and mix in the olive oil, paprika, cumin and garlic – season with some sea salt and black pepper and mix well.
Pour into a large roasting/baking tray – in a thin layer.
Cook in the oven for 12-15 minutes, fluffing the rice up with a fork half-way through.
Chop the coriander up and stir through the rice and serve.