Warm wholewheat wraps hold a delicious Italian-style vegetable mixture, to give a lighter version of a folded pizza.
Cheats' Pizza Calzone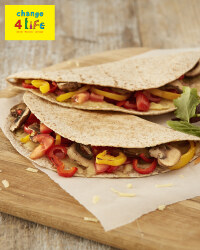 Recipe Information
Ingredients
1 red pepper, deseeded and thinly sliced
1 yellow pepper, deseeded and thinly sliced
150g closed-cup mushrooms, sliced
4 tomatoes, chopped
3 tsp dried Italian mixed herbs
4 soft wholewheat flour tortillas
80g reduced-fat hard cheese, grated
1 pinch ground black pepper
4 handfuls mixed salad leaves
1 carrot, grated
2 celery sticks, chopped
Method
Preheat the grill.
Arrange the peppers and mushrooms on a baking sheet and grill them for 4-5 minutes, turning once.
Add the tomatoes and herbs, then season with black pepper. Keep warm.
Put a tortilla into a dry frying pan and sprinkle a quarter of the cheese over the top.
Cook over a medium heat for about 30-40 seconds until melted.
Add a quarter of the vegetable mixture to one side of the tortilla, then fold it in half, over the filling.
Cook for a few moments, then slide it onto a warm serving plate. Keep warm.
Repeat with the remaining tortillas.
Serve with the salad leaves, grated carrot and celery.
Recipe provided by Change4Life