Delicious, crunchy potato cakes made from organic ingredients. Fantastic as a side or starter.
Cheesy Potato Cakes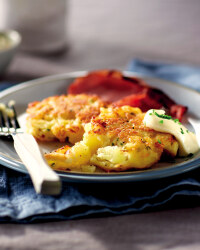 Recipe Information
Ingredients
700g Maris Piper or White organic Potatoes
100g Cheddar Cheese - grated
70g The Pantry Plain Flour
5g Fresh Chives
2x Medium Eggs - beaten
Solesta Sunflower Oil
Salt and Black Pepper
Method
Peel the potatoes, cut into medium chunks and then boil in some salted water for approximately 10 minutes until tender.
Drain well, mash and then allow to cool slightly.
Add the flour, grated cheese, chives and eggs and mix well, then season with some black pepper.
Heat some oil in a large frying pan - then add tablespoons of the mixture in the hot oil.
Slightly flatten the cheesy potato cake and cook for a minute or so, then flip and cook the other side – keep warm whilst you make the rest.
Great with bacon or smoked salmon.
If you don't want to cook them all in one go, the mixture will keep for 3 days in the fridge.