Pumpkin buns from scratch with a soft cheese centre and a pecan stem.
Cheesy Pumpkin Buns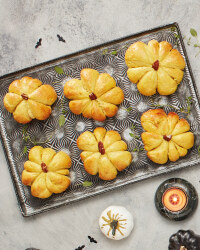 Recipe Information
Ingredients
350g Pumpkin/Butternut Squash Flesh
540g Strong Flour
7g Yeast
120ml Warm Milk
80g Butter, softened
50g Caster Sugar
1 tsp Salt
½ tsp Ground Cinnamon
½ tsp Ground Ginger
180g Soft Cheese
1 x Egg, beaten
6 x Pecans, sliced lengthways
Butcher's Twine
Method
Begin by making the purée by boiling or steaming the butternut squash or pumpkin until soft, then blend in a food processor until smooth – you should have about 240g of purée.
Gently warm the milk (do not overheat as this will kill the yeast when added).
Then add the sugar and yeast and leave to sit for a couple of minutes. Add the purée, flour, butter, salt and spices and mix until a dough has formed (depending on the consistency of your purée, you may need to add a little extra flour or water to the dough).
Knead the dough for 10 minutes until smooth and elastic. Cover and leave to rise for 1 hour until doubled in size.
Knead the dough for a minute until smooth, then divide into 12 balls. Flatten each ball of dough and add a spoonful of soft cheese to the centre of each then fold in the sides and pinch to seal.
Repeat this with the rest of the dough balls and then, using twine, wrap the dough like a present to create pumpkin shapes.
To do this, get a long piece of twine then place the roll topside down in the centre, then twist the string together then flip over and repeat a couple of times, finally tie together on top.
Leave to rise for another hour then pre-heat the oven to 170°C Fan/Gas Mark 5. Brush the pumpkin bread rolls with the egg and bake for 20-25 minutes until golden and hollow sounding when tapped on the base.
Leave to cool then use scissors to carefully remove the string. Add a sliced pecan into the top of each pumpkin to make the stem and serve.