A succulent, colourful and delightfully healthy lunch option.
Chicken, Coleslaw and Houmous Wrap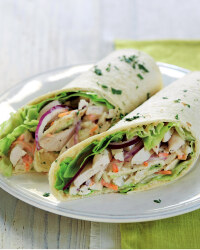 Recipe Information
Ingredients
4 Sunnyhills Tortilla Wraps 1 pack Ashfield Chicken Mini Fillets 1 small Red Onion ¼ Iceberg Lettuce 150g The Deli Reduced Fat Coleslaw 150g The Deli Reduced Fat Houmous A little Solesta Olive Oil Black Pepper
Method
Pre-heat the oven to 200°C/400°F/Gas Mark 6
Put the chicken fillets on a baking tray, drizzle over a little oil and sprinkle with black pepper – roast for 10 minutes.
Meanwhile, peel and thinly slice the red onion.
Once cooked – slice the chicken into thinner strips.
Put the wraps in the oven for a minute if you want to eat them warm.
Spread each wrap with a quarter of the houmous, top with lettuce leaves, then the chicken, then top that with some coleslaw and red onion, roll up and slice in half on the diagonal – serve warm or cold.