Delicious rustic French dinner idea. Great for family meals.
Chicken en Croute with Potato Hash & Salad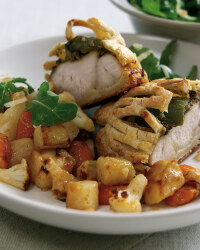 Recipe Information
Ingredients
4 tbsp olive oil 1 medium onion, peeled and chopped into 2cm chunks
2 medium potatoes, peeled, cooked and chopped into 2cm cubes
5 small carrots, peeled, cooked and cut into small pieces
½ medium cauliflower broken into florets, then cooked
1 chicken stock cube
100ml water
Coarse ground black pepper
140g rocket
2 small apples
2 tbsp olive oil
Chicken en Croute with Green Peppers and Mustard
Method
Heat the olive oil in a large nonstick frying pan.
Add the onions and cook for a few minutes to brown slightly.
Next add the potatoes, carrots and cauliflower and continue to cook until they all take a little colour.
Next, add the crumbled stock cube, water and a generous dash of pepper.
Stir well and cook over a high heat, so the stock cube dissolves and the water reduces slightly, this will make the dish nice and moist, but not wet.
Check the seasoning, adjust if needed.
Cook the Chicken en Croute as per the pack instructions.
Then place the rocket into a large bowl, grate the apple on a coarse grater and add to the rocket, mix well, but lightly.
Add the 2 tbsp olive oil, and mix well again, but do not crush the lettuce.
Serve the Chicken en Croute with the hash and serve the salad separately.