Chicken Fajitas with Sour Cream and Smashed Avocado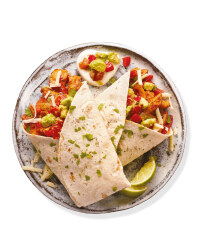 Recipe Information
Ingredients
1 Avocado
1 tbsp Olive Oil
1 x 535g pack Fajita Stir Fry Meal Kit
4 Tortilla Wraps
4 tbsp Sour Cream
100g Cheddar Cheese, grated
Salt and Black Pepper
Method
Halve the avocado, remove the stone, scoop out the flesh and mash up with fork or potato masher.
Heat the olive oil in a frying pan then add the chicken and vegetables from the fajita kit and cook as per the pack instructions.
Warm the tortillas and divide the chicken mixture between them. Top with avocado, sour cream and grated cheese.
You may like to stir in lime juice, chopped red onion, chopped tomato and chilli flakes to the avocado to make a chunky guacamole.