Juicy chicken thighs with a tangy cheese and onion filling. Great for parties, dinners and lunches.
Chicken Thighs with Cheese & Onion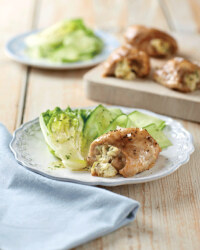 Recipe Information
Ingredients
1 x 500g pack British Boneless Chicken Thigh Fillets
2 spring onions
2 cloves garlic
1 pack Little Gem lettuces
1 cucumber 100g (½ pack)
The Cheese Emporium Soft Cheese Dressing
3tbsp Solesta Olive Oil
1 tbsp The Pantry Lemon Juice
1 tsp Bramwells Dijon Mustard
½ tsp Stonemills Parsley
A little Solesta Olive Oil
Ground black pepper and salt
Method
Pre-heat the oven to 190°C/375°F/Gas Mark 5.
Trim and thinly slice the spring onions and crush or finely chop the garlic and mix both into the soft cheese.
Open out the chicken thighs and divide the mixture between them.
Roll up the chicken to reform the thigh shape and place on a lightly oiled baking tray.
Brush the chicken with a little olive oil and season with black pepper and a little salt.
Roast for approximately 40 – 45 minutes until the juice runs clear.
Wash the lettuce, trim the ends and then halve lengthways and place on a serving plate.
Wash the cucumber and then, using a vegetable peeler slice the cucumber lengthways to form thin ribbons and arrange on a plate with the lettuce.
Use a fork to whisk together the dressing ingredients and pour over the salad just before serving.
Serve with the cooked chicken.