Succulent chicken grilled in a delicious tikka sauce with juicy cherry tomatoes.
Chicken Tikka Skewers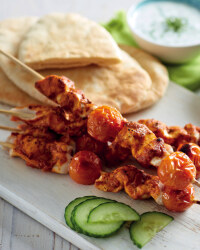 Recipe Information
Ingredients
1 x 375g pack British Chicken Mini Fillets
1 x 300g pack Cherry Tomatoes
½ x 500g jar Tikka Sauce
6 tbsp Natural Yogurt
1 tbsp freshly chopped Mint
½ Cucumber, sliced
½ bag Mixed Salad Leaves
4 White Pitta Breads
Freshly ground Salt and Black Pepper
Method
Halve the chicken fillets lengthways and thread along with cherry tomatoes onto 4 skewers.
Place the skewers onto a foil lined grill tray and coat each one generously with tikka sauce.
Grill for around 7 minutes on each side.
Meanwhile, stir the mint into the yogurt and season to taste.
When the chicken is almost cooked, split the pitta breads lengthways to form pockets and either toast or warm.
Slide the chicken and tomatoes off the skewer into the pitta.
Serve with cucumber slices and salad leaves.
Top with yogurt dressing and serve.