A delicious take on your everyday chicken burger with Chilli and Cheese hot cross buns.
Chilli & Cheese Hot Cross Buns with Chicken and Slaw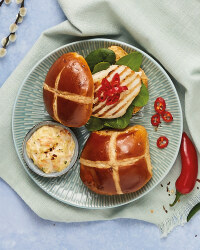 Recipe Information
Ingredients
1 X Pack 4 Chilli and Cheese Hot Cross Buns
4 X Small Chicken Breasts
100g Cheese Slaw
20g Baby Spinach Leaves
30ml Sunflower Oil
Method
Slightly flatten the chicken breasts, season with some salt and pepper.
Griddle or grill the chicken breasts for 14mins – turning as you cook.
Slice the hot cross buns and lightly toast.
Serve each bun with a chicken breast, leaves and cheese slaw.