These chilli nachos are a great snack, especially with homemade mango salsa.
Chilli Nachos with Homemade Mango Salsa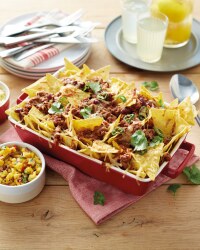 Recipe Information
Ingredients
250g Lean Minced Beef
1 Small Onion
1 tsp Rapeseed Oil
2 tsp Cajun Spice
1 tsp Paprika
400g Kidney Beans (drained)
400g Chopped Tomatoes
Pinch of Salt and Pepper
1 bag of Salted Tortilla Chips
150g Grated Mozzarella
Mango Salsa:
200g Fresh Mango
1 Small Red Onion
5g Fresh Coriander
1 Red Chilli
1 tbsp Olive Oil
½ Lime (juiced)
Pinch of salt and pepper
Method
1. Heat the oil in a pan and cook the onion for 5 minutes.
2. Next add the mince and cook until browned.
3. Add the cajun spice and the paprika and cook for a few more minutes then add the cans of chopped tomatoes and kidney beans and simmer for 15 minutes.
4. Stir all the ingredients for the mango salsa together.
5. To serve pour the chilli over the nachos and sprinkle over the cheese then bake for 5 minutes at 200C/180 fan/Gas mark 6 until the cheese has melted.
6. Serve with the mango salsa on top of the nachos.