A super speedy, super delicious, super nutritious prawn and broccoli stir-fry… with a little kick.
Chilli Prawn and Broccoli Stir Fry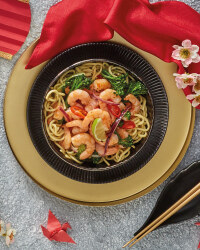 Recipe Information
Ingredients
2 x 200g packs Specially Selected Raw Jumbo Prawns
2 x 240g bags Specially Selected Tenderstem Broccoli Stir Fry
3 x cloves Garlic
15g fresh Ginger, peeled
30ml Honey
30ml Soy Sauce
1 x tsp Chilli Powder
1 x Lime, juiced
160g dried Egg Noodles, 2 sheets
Sunflower Oil to fry
6g fresh Coriander, chopped
Method
Defrost the prawns, grate the ginger and peel and mince the garlic.
In a small bowl, mix together the ginger, garlic, soy sauce, honey, chilli powder and lime juice. Heat some oil in a wok and stir fry the broccoli, then add the prawns and cook for about 12 to 15 minutes until the prawns turn pink.
Cook the egg noodles in boiling water as per instructions on the pack, ensuring to drain well. Add the soy and honey sauce to the wok and heat through.
Serve the noodles and stir fry topped with the chopped coriander.