A classic Asian-style glaze, dark and tangy and wonderful served with pork, fish, tofu or perfect for dipping!
Chilli Soy Glaze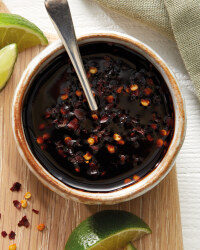 Recipe Information
Ingredients
70ml Dark Soy Sauce
40g Demerara Sugar
1 tsp Chilli Flakes
½ tsp Ground Ginger
15g Tomato Purée
½ tsp Garlic Granules
Method
Put all the ingredients into a small saucepan.
Slowly bring to the boil, stirring as you cook.
Once the sugar has dissolved, take the pan off the heat and allow to cool.