This classic French dessert combines light pastry, rich chocolate and decadent cream.
Chocolate Éclairs with Chopped Pistachio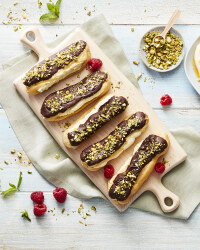 Recipe Information
Ingredients
130g Plain Flour
100g Salted Butter
4 Medium Eggs
240ml Cold Water
200g Dark Chocolate
50g Shelled Pistachios, chopped
600ml Double Cream
2 tsp Vanilla Essence
Baking Tray Piping Bag and 1.25cm Plain/Fluted Nozzle
Method
Pre-heat the oven to 200°C/Gas Mark 6
Chop the butter into small cubes, put into a medium sized saucepan along with the water and slowly bring to the boil.
Once melted, remove from the heat and put all the flour into the pan.
Beat well with a wooden spoon until you have a thick dough.
Place pan back on a low heat for 1 minute, beating the dough well. You should now have a glossy looking dough. Allow to cool slightly.
Lightly grease some baking sheets.
Whisk the eggs well and slowly add to the warm dough, whisking well. The dough should look shiny.
Spoon the dough into the piping bags and pipe 12 x 13cm lengths onto the baking tray, leaving room for them to expand.
Bake in the oven for 15 minutes at 200°C, then reduce to 170°C/Gas Mark 3 and cook for another 10 minutes. Don't open the door until the full cooking time is finished.
Remove from the oven and make a small hole in the side of each éclair to allow the steam to be released. Return to the oven for another 5 minutes to crisp up, then allow to cool.
Break up the chocolate into a heatproof dish and melt over a small pan of simmering water. Don't allow the bottom of the bowl to touch the water.
Place the cream and vanilla essence into a bowl, whisk until firm and add to the piping bag.
Cut the éclairs down one side, pipe in the cream, carefully dip them in the melted chocolate, then sprinkle with the nuts and serve.