Chocolate Grasshopper Choctail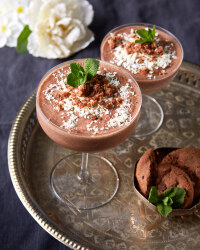 Recipe Information
Ingredients
25ml Tamova Vodka
25ml Dilara Cappuccino Coffee Liqueur
60g The Pantry Cocoa Powder
3 large scoops of Gianni's Mint Chocolate Chip Ice Cream
150ml Cowbelle Chocolate Fudge Milk
500ml Water
To serve:
Memento Triple Chocolate Cookies
Method
In a small saucepan, boil 250ml water then remove from heat and add cocoa powder and sugar. Stir to dissolve and then add the remaining water.
Once cooled, add the vodka to the mixture and leave to infuse.
Once successfully infused for ten minutes, place all ingredients in a blender and blend until smooth. Pour into a tall glass and garnish with the crushed cookies and cocoa powder.