Hand-made gourmet profiteroles filled with cream and dipped in rainbow coloured icing.
Colourful Profiteroles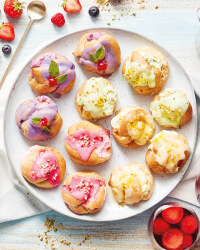 Recipe Information
Ingredients
Choux Pastry
260ml Cold Water
40g Caster Sugar
120g Unsalted Butter
150g Plain Flour
Pinch of Salt
4 x Medium Eggs, beaten
Fruit Cream Fillings
400ml Double Cream
50g Blueberries
50g Raspberries
30g Pistachio Nuts, shelled
Zest of ½ Lemon
4 tsp Caster Sugar
Icing
400g Icing Sugar
3 tbsp Cold Water
1 tbsp Lemon Juice
Purple, Pink, Yellow and Green Food Colouring
Toppings
Zest of ½ Lemon
Pistachio Nuts, chopped
Hazelnuts, chopped
Fresh Mint, chopped
Method
Bring the water to the boil and then add the butter.
When the butter has melted and the water is boiling, remove from the heat and quickly add the flour, sugar and salt.
Beat vigorously until a smooth dough forms which comes away from the side of the pan.
Leave the dough to cool for 10 minutes.
Pre-heat the oven to 200°C/Fan 180°C/Gas Mark 6.
Gradually add the eggs to the dough, a bit at a time, then beat to form the choux pastry.
The mixture should be a dropping consistency but not runny.
Using a piping bag, pipe 40 balls of the choux pastry onto lined baking sheets.
Bake for 15-20 minutes until puffed and golden.
In the meantime, push the raspberries through a sieve into a bowl and add 1 teaspoon of caster sugar.
Heat the blueberries in a pan with 1 teaspoon of caster sugar and 1 tablespoon of water and cook until they have reduced down to a thick sauce.
Finely chop the pistachios.
When the profiteroles are cooked, pierce a hole in each one and leave to cool.
Whip the cream and divide between 4 bowls.
Add the raspberry mix to one bowl, the blueberry to the second, the lemon zest and 1 teaspoon of caster sugar to the third and the chopped pistachios, along with 1 teaspoon of caster sugar to the fourth.
Then place the creams into 4 piping bags.
Pipe the different creams into the profiteroles to make 10 of each flavour.
Place 100g of icing sugar into 4 small bowls, add 1 tablespoon of water to 3 of them, lemon juice to the fourth and mix well to produce icing.
Add a drop of pink, purple and green to plain icing and a drop of yellow to the lemon icing and mix well again to make 4 different coloured icings.
Dip the raspberry profiteroles into the pink icing, blueberry into the purple, pistachio into the green and lemon into the yellow.
Sprinkle some chopped pistachios on the green ones, chopped hazelnuts onto the raspberry, mint onto the blueberry and lemon zest onto the lemon.
Keep chilled until ready to serve.