Cookie Lollipops - shaped on a stick, baked and decorated with Dairyfine chocolates.
Cookie Lollipops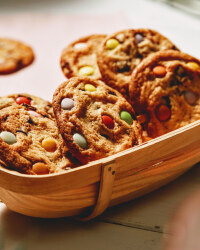 Recipe Information
Ingredients
350g Greenvale Chocolate Chip Cookie Dough
40g Dairyfine Chocies
8 Lollipop Sticks
Method
Preheat the oven to 180°C/gas mark 4.
Cut the cookie dough into 8 pieces.
Roll the cookie dough into balls and then press them onto the lollipop sticks and place on a grease proof paper lined tray.
Place the Chocies between the cookie dough (they will spread out as the cookie bakes).
Bake for 12-15 minutes until golden and serve when cooled.