Spice up tonight's family meal with this coriander and garlic Tandoori chicken recipe.
Coriander and Garlic Tandoori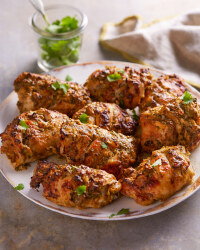 Recipe Information
Ingredients
2 pots Fresh Coriander
3 cloves Garlic
1 Green Chilli, approx. 20g
20g piece of Fresh Ginger
150g Brooklea Greek Yogurt
1 Lime
1heaped tsp Stonemill Paprika
1 tsp Stonemill Ground Cumin
2 x 500g packs Chicken Thighs
Salt and Black Pepper
Method
Pre-heat the oven to 200oC/400oF/Gas Mark 6.
Peel and finely chop the garlic. Reserve 10g of the coriander for garnish and finely chop the rest. Peel and grate the ginger. Trim the chilli and finely chop, including the seeds.
Mix the garlic, coriander, ginger and chilli together in a bowl. Juice the lime and add to the mix along with the paprika and the cumin. Spoon over the yogurt, season with a little salt and plenty of black pepper and mix well.
Make a couple of slashes in the chicken thighs with a sharp knife. Put the thighs into a glass bowl, pour over the coriander paste and rub into the chicken.
Allow to rest and marinate for a few hours or overnight.
Spread out the chicken thighs on a baking sheet. Roast them for 40 minutes, until browned and slightly crispy. Serve topped with the remaining coriander.