Succulent pork leg with sweet, crispy roasted apples with a zesty kick.
Crackling Pork Leg Joint with Roasted Apples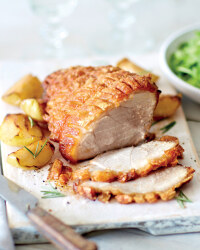 Recipe Information
Ingredients
1.4kg approx. Specially Selected Pork Leg Joint
440ml Taurus Dry Cider OR Del Rivo Apple Juice
4 Apples
A little The Pantry Lemon juice
Salt
A little Solesta Sunflower oil
Find your ingredients online on Click & Collect or find your nearest store using our Store Finder.
Method
Pre-heat oven to 220oC/430oF /Gas Mark 7. Put the pork joint in a roasting tray, and rub some salt over the skin. Pour the cider or apple juice around the joint and roast, uncovered for 20 minutes. Then drop the temperature to 200 degrees for 1 hour 20 minutes.
Meanwhile, core the apples and cut in quarters. Roll in the lemon juice, then put them into a small roasting dish and sprinkle over a little oil. When the pork has been in the oven for 1 hour 40mins, put the apples in to roast for 20 mins. Serve the roast pork carved and any juices served alongside with the apple wedges.