Fresh cucumber cocktail made with gin, lime juice, tonic, and mint.
Cucumber Gin & Tonic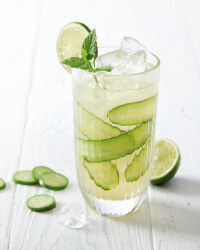 Recipe Information
Ingredients
1 Baby Cucumber (roughly chopped)
100ml Gin
1 tbsp. Lime Juice
Serve
Ice
200ml Tonic Water
Fresh Mint
Baby Cucumber Ribbons
Method
1. In shaker muddle together the baby cucumber, gin and the lime juice.
2. Fill 2 glasses with ice and cucumber ribbons.
3. Strain the cucumber gin between the 2 glasses.
4. Top with tonic water and garnish with fresh mint and lime.
5. Serve immediately