A Dairy Free Banana Milkshake that's full of goodness.
Dairy Free Banana Milkshake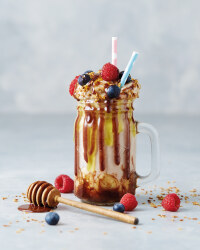 Recipe Information
Ingredients
Banana Milkshake:
150ml Coconut drink
1 Frozen Banana
1 tsp Vanilla Extract
1 tsp Honey
Banana ice cream:
4 frozen bananas
2 tbsp coconut milk
Honey and Chocolate Drizzle:
1 tbsp honey
1 tsp cocoa
Method
1. Place all the ingredients for the ice cream in a blender and blend until smooth
2. Pour into a tub and freeze for 2 hours, checking every half an hour until it is nice and thick.
3. Put all the milkshake ingredients in a blender and blitz until smooth.
4. Spread some peanut butter around the rim of the glasses then fill with the smoothie and top with the ice cream.
5. Why not try our honey and chocolate drizzle on the outskirts of the glass? Just mix the honey and cocoa together and dribble around the glass.
6. To finish off, decorate with lots of fruit.