Great rustic recipe for a delicious loaf.
Date and Walnut Loaf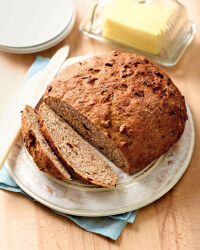 Recipe Information
Ingredients
200g The Pantry Strong Wholemeal Flour
200g The Pantry Plain Flour
7g – 1 sachet – The Pantry Dried Yeast
70g The Pantry Walnuts – chopped
50g The Pantry Dates
20ml Solesta Olive Oil – plus a little extra for greasing
7g Salt
10g Light Brown Soft Sugar
300ml lukewarm water
Find your ingredients online on Click & Collect or find your nearest store using our Store Finder.
Method
Mix the flours, yeast, brown sugar and salt together.
Mix the water and oil together and pour over the flour and mix well.
Turn out onto a lightly floured work surface, need for about 5 minutes, until you have a smooth dough.
Sprinkle over the dates and walnuts, knead for about 5 minutes – until all is combined – shape into a round.
Put in a lightly oiled baking tray, cover with some lightly oiled cling film, put somewhere warm and allow to prove for 65/70 minutes – until well-risen.
Pre-heat the oven to 200°C/400°F/Gas Mark 6.
Remove the cling film. Bake in the oven for 35 minutes.
When the bread is taken out of its tin and you tap the bottom of the bread – it should sound hollow – if not return to bake for another 5 minutes.
Cool on a rack.
Great served with cheese and salami.