These delicious gingerbread men will make the perfect decoration for your Christmas tree!
Decorated Gingerbread Men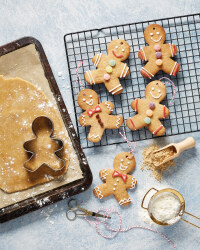 Recipe Information
Ingredients
150g The Pantry Soft Brown Sugar
100g Greenvale Unsalted Butter
150g The Pantry Golden Syrup
340g The Pantry Plain Flour
2 tsp The Pantry Bicarbonate of Soda
2 tsp Stonemill Ground Ginger
1 tsp Stonemill Ground Cinnamon
50g The Pantry icing mixed with 2 tsp of water
1 packet of Dolly Mixture
1 packet of Red Laces
1 packet of Chocolate Raisins
To Decorate
Ribbon
Scissors
Gingerbread Men Cookie Cutter
Piping bag
Method
Preheat the oven to 170°C/gas mark 3.
In a small pan, melt together the butter, sugar and syrup until it is smooth, then remove from the heat.
Sieve the flour, bicarbonate of soda, ginger and cinnamon into a bowl, then add the melted ingredients, and combine into a stiff dough.
Leave the dough in the fridge to chill for 30 minutes.
Roll out the dough on a floured surface until about ½ cm thick and then use the gingerbread cutter to cut out the gingerbread men.
Line baking trays with baking paper and then bake the biscuits for 10-12 minutes until light golden brown.
While the biscuits are still warm, use a straw to cut a hole into the top of the gingerbread men so a ribbon can be tied through.
When the biscuits are cool enough to decorate, mix the icing sugar and water until smooth. The icing should be thick enough to coat the back of a spoon, but if it is too thick, add a drop of water at a time.
Decorate the biscuits using the icing to stick the red laces, dolly mixture and raisins as clothes, buttons and eyes. If you have a piping bag, you can pipe the icing on to make a smile or other small details.
Finally, when the icing has dried, thread the ribbon through the holes and tie into a loop so the gingerbread men can be hung onto your Christmas tree.