A glorious gourmet dish, perfect for dinner parties or dates.
Duo Salmon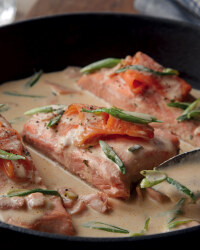 Recipe Information
Ingredients
2 240g packs The Fishmonger salmon fillets
200g pack The Fishmonger smoked salmon
6 spring onions
150ml Double cream
200ml Baron St Jean white wine
20ml The Pantry lemon juice
25g unsalted butter
1 teaspoon Stonemills paprika
1 teaspoon Stonemills Parsley
Method
Preheat the oven to 180°C/350°F/Gas Mark 4.
Put the salmon fillets in a baking dish.
Cover each fillet with a slice of smoked salmon.
Pour the white wine over the salmon and put in the oven and cook for 15 minutes.
Chop the remaining smoked salmon into small pieces.
Trim and wash the spring onion – slice very finely.
Add the butter to a small saucepan and melt.
Add the sliced spring onions in and saute for a couple of minutes.
Take the salmon out of the oven and pour the wine from the baking dish into the saucepan.
Return the salmon to the oven to keep warm.
Add the chopped smoked salmon, cream, paprika, parsley and lemon juice to the pan – heat through till slightly thickened.
Serve the salmon with the sauce.
Great served with mashed potato and broccoli.