Build your own amazing pizzas with our simple homemade recipe. Try a slice tonight.
Easy Pizza Dough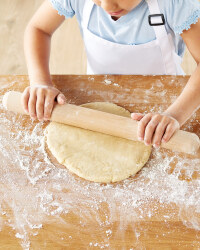 Recipe Information
Ingredients
760g Strong White Plain Flour
2 x 7g sachets Dried Yeast
2 tsp Salt
2 tsp Caster Sugar
40ml Olive Oil
500ml Warm Water
Passata
Cheese
Toppings of your choice
Method
Pre-heat the oven at 200°C.
Put the flour, salt, caster sugar and dried yeast into a large bowl and whisk. Add the warm water and olive oil and mix well.
Turn out the dough onto a floured board and knead until it's smooth and elastic.
Cut the dough into 4 and shape into rounds. Roll out each ball into a circle about 28cm across. Put onto greased baking sheets and spread the tops with some passata, grated cheese and your favourite toppings.
Bake in the oven for 10-12 minutes at 200°C until the base is crisp around the edges and the cheese has melted.