Succulent cod, complemented by a tangy tartare sauce in a toasted brioche bun.
Fish Brioche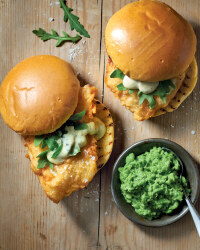 Recipe Information
Ingredients
4 Specially Selected Brioche Burger Buns
4 Northern Catch Battered Chunky Cod Fillets
200g Sweet Harvest Mushy Peas
80g Bramwells Tartar Sauce
30g Fresh Rocket
Method
Pre-heat the oven to 220°F/425°F/Gas Mark 7
Bake the cod fillets for 30 minutes, as per the directions on the pack.
Toast the cut sides of the burger buns.
Heat the peas in a microwave or on the hob in a saucepan.
Place a cod fillet on top of a bun base – sprinkle with rocket and add a dollop of tartar sauce – serve alongside the mushy peas.