A quick tasty side dish packed with flavour using potatoes coated in garlic and herbs.
Fondant Potatoes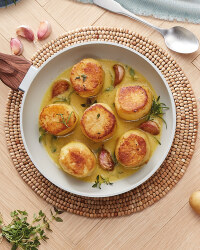 Recipe Information
Ingredients
6 medium Maris Piper Potatoes
25ml Olive Oil
200g Unsalted Butter
4 Garlic Cloves, slightly bashed
2 Sprigs of Rosemary
2 Sprigs of Thyme
200ml Vegetable Stock
Sea Salt and Black Pepper
Method
Peel the potatoes and cut the ends off.
Heat the oil in a large frying pan and fry the potatoes cut side down for 5-7 minutes each side, until golden brown.
Add the butter, garlic and herbs and season well.
Pour in the stock, cover and simmer gently for 25-30 minutes, turning once during the cooking time, until tender.