Blended daiquiri made with white rum, frozen melon cubes and Demerara Sugar.
Frozen Mango Daiquiri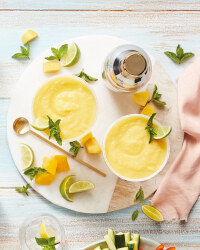 Recipe Information
Ingredients
60ml White Rum
80g Fresh Mango, peeled and chopped into cubes
2 Limes
25g Demerara Sugar
25ml Boiling Water
25g Caster Sugar
Method
Pop mango cubes into the freezer for 15 minutes.
Meanwhile, dissolve the demerara sugar with the boiling water and place in the fridge to chill.
Juice the limes into a blender with the rum, frozen mango and the sugar syrup and process until smooth.
Dip the edge of 2 glasses in some water, then dip in the caster sugar.
Pour the drink between the glasses and garnish with mango and lime.