Granola and oats pizza 'base' decorated with all your favourite fruits.
Fruit Pizza with Granola Crust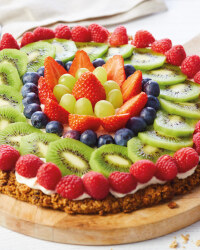 Recipe Information
Ingredients
350g Granola with Almonds & Raisins
50g Porridge Oats
20ml Honey
150g Unsalted Butter
2 tsp Vanilla Essence
30g Caster Sugar
400g Soft Cheese
Juice of 1 Lemon
Juice of 1 Lime
Mint Leaves
Fresh fruit suggestions
150g Raspberries
8 Strawberries
100g Blueberries
3 Kiwis
12 Grapes
Method
Pre-heat the oven to 200°C/Gas Mark 6.
Place the granola into a food processor and blitz to create fine crumbs.
Melt the butter and honey.
Mix together the granola crumbs with the porridge oats, melted butter and honey in a bowl.
Spoon onto a baking tray lined with baking paper and create a 35cm circle.
Bake in the oven for 15 minutes, until slightly browned, then allow to cool completely.
Combine the soft cheese with the vanilla essence and lemon and lime juices.
Spread this onto the granola base.
Decorate with fresh fruit and serve.