This unorthodox starter is mouth-wateringly refreshing and perfect for dinner parties.
Galia Melon with Prawns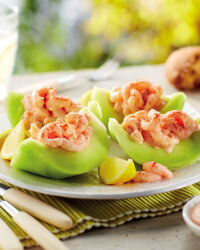 Recipe Information
Ingredients
1 Galia Melon
325g The Fishmonger Frozen Large North Atlantic Prawns
100g Bramwells Mayonnaise
1 tsp Cucina Tomato Puree
15ml Fresh Lemon Juice
35ml Brooklea Natural Yoghurt
1 tsp Stonemill Paprika
Method
Defrost the prawns and drain well.
Mix the mayonnaise, yoghurt, tomato puree, lemon juice and ½ tsp of paprika together.
Add the prawns to the sauce mixture.
Cut the melon into quarters lengthways, remove the seeds, and then cut away from the skin to leave four boat shapes.
Serve each melon boat topped with prawns and garnished with a sprinkle of paprika.