Add a tropical tang to classic gammon and eggs!
Gammon, Pineapple and Fried Egg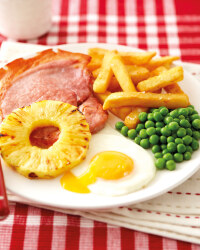 Recipe Information
Ingredients
½ Pineapple
600g Frozen Golden Fries
2 x packs Gammon Steaks
500g Frozen Garden Peas
Vegetable Oil – 2 tbsp
4 x Medium Eggs
Method
Pre-heat the oven to 200°C/400°F/Gas Mark 6
Cut the pineapple into slices.
Trim the skin from each slice, remove and discard the tough core in the centre.
Put the chips on a baking sheet then put in the oven and cook as per pack instructions.
Meanwhile grill the gammon steaks for about 5 minutes each side under a hot grill.
Then add the steaks to the bottom of the oven to keep warm.
To finish off your meal: Place the pineapple rings under the grill for 2 minutes each side to warm through.
Cook the peas as per pack instructions.
Meanwhile heat 2 tablespoons of vegetable oil in a frying pan and add the eggs.
Fry the eggs for approximately 3 minutes, gently basting the eggs with the hot fat until the yolk is cooked.