Crispy fried chicken pieces with garlic, served with tomatoes.
Garlic Crispy Chicken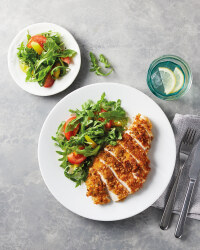 Recipe Information
Ingredients
4 Chicken Breasts
4 slices Farmhouse Seeded Bread
2 Garlic Cloves, peeled and minced
40g Rocket
2 Tomatoes
1 Lime, quartered
80ml Olive Oil
1 Yellow Pepper, sliced
Salt and Black Pepper
Method
Make breadcrumbs from the bread slices.
Mix the breadcrumbs and garlic together, season with a little salt and black pepper.
Put the chicken breasts between some greaseproof paper and using a rolling pin flatten them to create thin escallops.
Sprinkle over the breadcrumb mix onto both sides of the chicken, pushing the crumbs into the flesh with the back of your hand.
Fry them individually in the oil on both sides until thoroughly cooked and piping hot throughout.
Keep them warm while cooking the others.
Serve warm alongside the rocket, pepper and tomatoes, with a lime wedge on each.