Delicious, simple and easy to share. A classic dessert.
Ginger Nut Cookies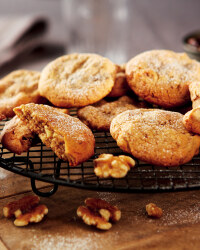 Recipe Information
Ingredients
70g Walnuts
115g The Pantry Self Raising flour
115g The Pantry Plain Flour
200g Soft Brown Sugar
100ml Solesta Mild Olive Oil
20ml Grandessa Honey
1 Large Egg, beaten
1 flat tsp Stonemill Ground Ginger
1 flat tsp Stonemill Cinnamon
1 heaped teaspoon of Stonemills ground ginger
Find your ingredients online on Click & Collect or find your nearest store using our Store Finder.
Method
Pre-heat the oven to 180°C/350°F/Gas Mark 4.
Roughly chop the ginger into small pieces.
Chop the walnuts into small pieces. In a bowl, combine the sugar, beaten egg, honey and oil, then add the flour, ground ginger, walnuts and spices and mix well.
Divide the mixture into 24 pieces, shape into a round and flatten slightly.
Place on greased baking trays, with room between to spread.
Bake for about 12 minutes until golden brown – transfer from the baking sheets onto a baking rack to cool.