These wonderful Mediterranean snacks are delicious as a starter or lunch idea. Great for dinner parties.
Goat's Cheese, Onion & Walnut Tartlets with Rocket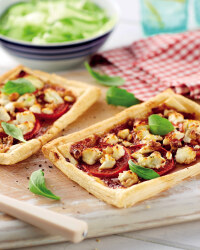 Recipe Information
Ingredients
1 x Puff pastry sheet
1 log Cheese emporium goat's cheese
3 x Large vine tomatoes
Salt and pepper
4 dessert spoons Specially selected onion chutney
50g Pantry walnut pieces, crushed
Rocket leaves to garnish.
Method
Pre-heat the oven to 200°C/400°F/Gas Mark 6.
Slice the tomatoes thinly and season well - leave to drain on kitchen paper.
Roll out the puff pastry and cut into 3 even sized rectangles.
Spread a dessert spoon of chutney over each rectangle leaving 1 ½ cm around the edge.
Place 4 slices of tomato on top of the onion.
Crumble the goat's cheese into crumbs and add the crushed walnuts.
Divide into 4 a sprinkle evenly over the tomatoes.
Bake in the oven for 12-14 minutes on a baking sheet.
Garnish with a sprinkling of rocket leaves.