Juicy chicken thighs, crispy pancetta strips and a creamy mushroom sauce. What's not to like?
Goat's Cheese Chicken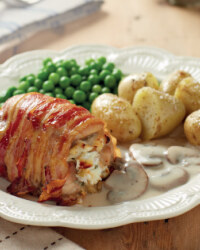 Recipe Information
Ingredients
2 packs 500g x Ashfield boneless chicken thighs
1 x 150g The Cheese Emporium goat's cheese
1 x 100g pack Casa Barelli Italian-style pancetta strips
1 x Apple - diced
100g Chestnut mushrooms - sliced
30g Greenvale butter
½ Jar Cucina lasagne sauce
500g Salad potatoes
300g Four Seasons Petit Pois
1 x teaspoon Stonemills dried parsley
Black pepper
Method
Preheat oven 400°F/200°C/Gas Mark 6.
Mix the diced apple, goat's cheese, parsley and black pepper together in a bowl.
Lay 4 chicken thighs out flat, skin side down, divide the mixture into four, put the mixture in the middle of the thigh, and then roll them up - roast the other two in the packs, then let them go cold and use them in sandwiches.
Wrap 4 slices of pancetta around each thigh.
Put them onto a baking tray and bake in the oven for 40 minutes.
Whilst they are cooking, boil the salad potatoes in some salted water for about 15 minutes until tender, drain and keep warm.
Cook the peas in salted water for a few minutes - until hot.
Meanwhile, saute the mushrooms in a saucepan with the butter for a couple of minutes; add the lasagne sauce and some black pepper.
Serve the sauce alongside the chicken thighs, potatoes and peas.