Add some Grecian flair to your tomatoes for a tangy taste of the Med
Greek Stuffed Tomatoes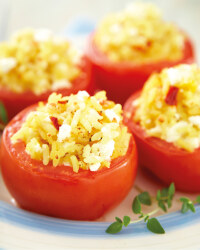 Recipe Information
Ingredients
2 x 450g packs Large Vine Tomatoes
1 x 250g pack Microwaveable Golden Vegetable Rice
1 x 200g pack Greek Style Salad Cheese
Method
Preheat the oven to 200°C/400°F/Gas Mark 6
Slice the top of each tomato and scoop out the middle, just leaving the tomato shell.
Cook the rice in the microwave - as per pack instructions.
Put the hot rice in a bowl and crumble over the cheese, mix well.
Stuff the tomatoes with the rice mixture and bake in the oven for 15 minutes.