A fresh and zesty summer main – Greek-style Lamb Chops with Lemon and Thyme Dressing.
Greek-style Lamb Chops with Lemon and Thyme Dressing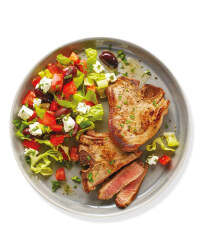 Recipe Information
Ingredients
1 x 400g pack British Lamb Chops
100ml Greek Yogurt
2 Garlic Cloves, crushed
1 Lemon, zested and juiced
3 sprigs Thyme, chopped
½ Little Gem Lettuce, washed and shredded
3 Salad Tomatoes, diced
Handful of Parsley Leaves, roughly chopped
Handful of Mint Leaves, roughly chopped
100g Feta Cheese
50g Specially Selected Kalamata Olives, halved
3 tbsp Olive Oil
Salt and Black Pepper
Method
Mix together the yogurt, garlic, half of the lemon juice, half of the zest and half of the chopped thyme.
Season to taste then pour into a shallow dish.
Add the lamb chops and turn in the marinade until well coated. Set aside to absorb the flavours.
Toss together the lettuce, tomatoes and herbs and place in a serving bowl.
Crumble the feta cheese on top and sprinkle over the olives.
Whisk together 2 tbsp of olive oil with the remaining lemon juice, zest and thyme and season to taste.
Heat the grill to medium/high. Remove the lamb chops from the marinade and brush with the remaining tablespoon of olive oil.
Cook for 2-5 minutes on each side, until golden brown.
Serve with the prepared salad and dressing.