This fruity continental dish is delicious as a dessert or a breakfast idea.
Griddled Brioche with Strawberry & Peach Salsa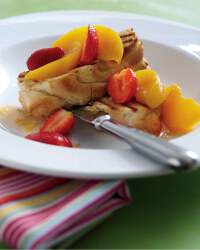 Recipe Information
Ingredients
2 tins of sliced Peaches
250g fresh Strawberries, halved
Juice from 2 Lemons
Zest of 1 large Lemon
2-3 tbsp Granulated Sugar
25g Unsalted Butter
225g 'Tear n Share' Brioche, cut into 6 or 8 slices
Method
Drain the tinned peaches and place into a bowl.
Add the strawberries along with the juice and zest of the lemon and the sugar.
Really mix well.
Leave to marinate for 1 hour at room temperature.
Butter the brioche slices on both sides scantly.
Heat the BBQ to half heat.
If the bars are too hot the brioche burns very quickly indeed.
Place the brioche on the hot bars and grill for 1-2 minutes on each side.
Take care, they will burn.
Serve the chargrilled brioche slices with the strawberry and peach salsa.