Add a deliciously spicy chilli and lime twist to grilled corn on the cob!
Grilled Corn on the Cob with Chilli & Lime Butter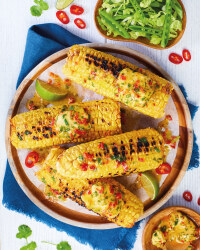 Recipe Information
Ingredients
2 Whole Sweetcorn
100g Salted Butter, at room temperature
1 Red Chilli
Grated Rind and Juice of 1 Lime
5g Fresh Coriander
Method
Grill, griddle or barbecue the sweetcorn for about 15 minutes, turning frequently, until slightly blackened and hot.
Finely chop the chilli, keeping the seeds for a hotter butter.
Finely chop the coriander.
Mix the chilli, coriander, lime juice and rind together with the butter.
Divide into 4 portions.
Make them into round pats.
Serve each sweetcorn with a pat of butter and serve.