Homemade flat bread topped with melted cheese, prosciutto and sun-dried tomatoes.
Grilled Flat Bread with Prosciutto and Rocket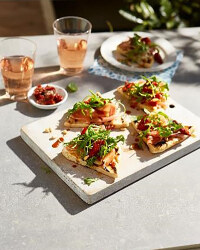 Recipe Information
Ingredients
Dough:
310g White Flour
1 tsp (3g) Salt
60ml Warm Water
1 1/8 tsp (5g) Dry Active Yeast
1 tbsp Extra Virgin Olive Oil, plus more for cooking and greasing
Grilled lemon and garlic oil:
½ Lemon, in 3 wedges cut
1 Sprig Rosemary
4 Garlic Cloves in skin crushed
1/3 cup Extra Virgin Olive Oil
Sweet Balsamic dressing:
3 tbsp (45g) Balsamic Vinegar
2 tsp (6g) Brown Sugar
2 tbsp Lemon and Garlic oil from above
Toppings:
70g Parmesan, shaved with a peeler
20g Rocket, baby salad leaves
12 fresh basil leaves
1 Lemon, cut into wedges
10 slices (130g) Prosciutto Di Parma Ham
24g Sundried Tomatoes, thinly sliced
12g Pine Nuts, toasted
Method
Heat up the grill.
First make the lemon and garlic oil. Grill the lemon wedges until just softened, about 3 minutes and grill lines are marked. Grill the fresh rosemary sprig until just slightly charred, about 30 second to 1 minute.
Place in a cast iron pan on the grill, tip in the olive oil. Place in the lemon, rosemary, garlic, and heat through over indirect heat to infuse, about 20-30 mins, until garlic is soft. Add a pinch of salt and set in a warm place to infuse further.
Next, make the balsamic dressing. In a small bowl, whisk together the vinegar and the sugar. Remove the solids from the lemon garlic oil and whisk 2 tbsp into the balsamic glaze. Reserve the rest of the oil for another use. Season with salt and pepper to taste and set aside.
Next, make the dough. In a food processor, combine the flour and the salt. In a separate bowl, combine the warm water, yeast and oil.
Drizzle in the water mixture into the food processor, and process until a dough is formed. Remove the dough and place into a well-oiled bowl and cover with a wet cloth and set in a warm place to rise for about 1 hour.
Divide the dough in thirds. Stretch and roll the dough out on a cutting board until about 1/2 cm thick. Place on the grill, and cover. Cook the bread for about 1.5 minutes and then flip. The bread should be marked with grill lines. If the dough sticks, brush lightly with olive oil. Move the bread to indirect heat and scatter the parmesan cheese evenly over the bread. Cover again and cook about 1 min until the cheese is melted.
Remove from heat and place on a cutting board.
Place the parma ham on top of the melted cheese, top with rocket and basil, then scatter the sun dried tomatoes, and pine nuts. Cut the flat bread into pieces, if you like, and serve immediately.