Juicy ribeye steaks cooked in a sweet marinade and served with grilled vegetables.
Grilled Kalbi Ribeye Steak with Thyme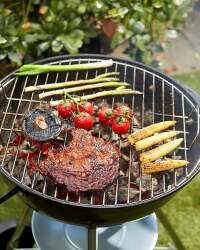 Recipe Information
Ingredients
4 Ribeye Steaks, about 225g each
Marinade:
4 Pears, peeled, cored, and grated
7 tbsp Dark Brown Sugar
6 tbsp Soy Sauce
6 Garlic, grated
4 tsp Ginger, grated
4 Large pinch Salt
10 turns of fresh Black Pepper on a pepper mill
2 tbsp Vegetable Oil
Side Grilled Vegetables:
8 or 10 Spring Onions, trimmed off roots
12 Cherry Tomatoes on vine
12 Baby Corns
2 Portobello Mushrooms
Extra virgin olive oil for brushing on vegetables and on the grill
Method
Heat up your grill.
First, make the marinade. In a small bowl, mix together all of the ingredients and tip into a plastic bag. Add the steaks and gently massage in the marinade. Allow to marinate for at least 3 hours and up to 6 hours in the fridge.
Prepare the spring onions, cherry tomatoes and corn by lightly brushing them with extra virgin olive oil and sprinkle them in salt. Set them aside on a tray.
Once the steaks are done marinating, remove from the bags and shake off excess marinade. Pour any remaining marinade into a small cast iron pan and place on the grill over indirect heat to bring to a simmer. Allow to simmer about 6-7 minutes until reduced slightly and remove from the heat, set in a warm place.
Place the steaks on the grill and cook until desired doneness flipping as needed.
Once done, place the steaks on a cutting board and allow to rest, (time depends on the thickness of your steak).
For the mushrooms, remove the large stems and brush the tops and centres with the beef marinade generously. Place on the grill and cook until marked and softened, about 2 minutes each side.
Place the spring onions and baby corn on the grill and cook until marked. About 1-2 minutes for the spring onions, and 2-3 minutes for the corn. Place the tomatoes on the grill and cook until just about to soften, about 3-4 minutes.
To serve, carve the steak and slice the mushrooms as well. Serve the steak with the vegetables on the side and top the steak with the reduced marinade, if you like.