Succulent and zesty chicken in a fresh and tasty watermelon salad.
Grilled Lime Chicken and Watermelon Salad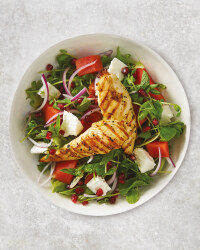 Recipe Information
Ingredients
4 Ashfield Chicken Breasts
Juice from 2 Limes
Grated rind from 1 Lime
2 Organic Cloves of Garlic
60ml Olive Oil
¼ Watermelon
1 pack Mixed Salad Leaves
1 large Organic Red Onion
100g Lyttos Greek Feta Cheese
1 pack Lets Eat Pomegranate Seeds
5g Fresh Mint
Find your ingredients online on Click & Collect or find your nearest store using our Store Finder.
Method
Peel and finely chop the garlic.
Put the lime juice and rind in a mixing bowl, add 30ml olive oil and the garlic.
Cut the chicken breasts lengthways to give you 8 thin fillets.
Put the chicken fillets in the olive oil mix and coat well.
If you have time let the chicken marinate in the mix for a few hours or overnight.
Cut the watermelon into thin slices, remove the rind and the black seeds.
Break up the salad leaves.
Peel, half and thinly slice the red onion.
Chop the feta cheese into small dice.
Preheat the grill to high and grill the chicken breast fillets for about 4/5 mins each side – till cooked through – or put on the BBQ or griddle.
Assemble the salad.
Mix the salad with the red onion slices, then the watermelon and top with the grilled chicken.
Sprinkle over the pomegranate seeds, feta cheese and mint leaves.